1. Juliacks
Personal Bio: Juliacks is the author and creator of the transmedia fictions made from networks of performances, films, comic books, exhibitions, installations, paintings and multiform social interactions. Her play, Swell based upon her graphic novel (directed by Kathleen Amshoff,) was a headlining production of the 2012 Women Center Stage Festival. Her work has been shown at MoMA PS1, the Moderna Museum, Musee d'Art Contemporain de Lyon, as well as many art spaces, galleries, alternative venues, and festivals in North America and Europe. Her comic art book, Architecture of an Atom was published in 2017 and can be found at all book places. Splitting her time between Amsterdam and New Jersey, she was a recipient of the NJ Council Fellowship for the Arts, the Fulbright Fellowship and most recently the Mondriaan Project Investment Grant which supported this project, Transversal Scepters | The Antecedents specifically.
Title of Piece: Transversal Scepters | The Antecedents
Description: Transversal Scepters | The Antecedents is a fiction which uses legal archives from the 17th century Netherlands to think about the history and future of crime and punishment in the United States and the Netherlands. Focusing on the first prison of Haarlem in the Netherlands and its subsequent first prison uprising/strike in 1613 with its parallels with our present and future, this trans-historical science fiction is a sensory performance essay / plenary, a menu against prisons with immersive video, trans-historical morsels, live music, tapestries and shadow puppet dance. This performance looks at the trans-historical parallels of 'reforms,' laws, incarceration institutions and their uprisings as well as new technologies, fiction, poetry, movement, food and textiles as a means to imagine alternative futures.
Cast/Creative:
Director, Writer, Costumes, Design, Tapestries : Juliacks
Performance Artist, Research, Food Art: Laura Linda Miller
Projection Mapping & Design, Camera: Lars Berg
Shadow Dance Choreography: Julia Bengtsson
Dancers : Abby Marchesseault, Cara Treacy, Julia Bengtsson
Original Live Music Composed by Brian Morales
Original Pre-Recorded Music Compositions by Emilia Pennanen
17th Century Archival Research & Dramaturgy: Suzanne Sanders
Support from the Mondriaan Foundation & Haarlemseherfst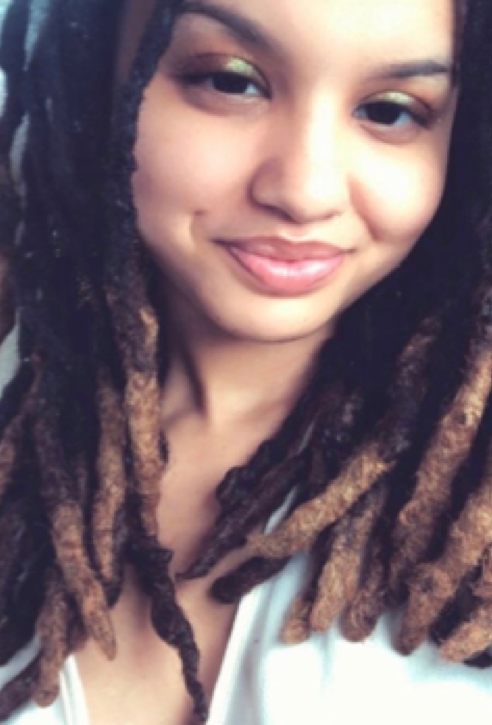 2. Natalie Cook
Personal Bio: Natalie Cook is a filmmaker, playwright, and poet. She has been a spoken word artist since the age of 13 and has shared the stage with artists such as Nikki Giovanni, Sonia Sanchez, Saul Williams, and MC Lyte. Natalie founded Atlanta Word Works (501c3) when only sixteen in hopes that young people would find ways to express themselves through creative writing and spoken word poetry, just as she had. She is the writer and director of MANIKIN, an interdisciplinary theatre production that explores gender relations between Black men and Black women living in modern day America. Natalie obtained her Master's at the NYU Gallatin School of Individualized Study where she designed her own program, "Revitalizing Black Education through the Arts". Her current projects consist of the short film , Ellie , which is set to be in production in 2019, as well as her one-person show, Cat Got Your Tongue .
Title of Piece: Cat Got Your Tongue
Description: Cat Got Your Tongue is a mixed media production that reveals the literal images that metaphors invoke when language — that is typically attributed to femininity — is [ab]used. Misogyny is often normalized because it is embedded within the fabric of entertainment, media, interpersonal interactions, and systems that American citizens' operate within. Particularly looking at rap music, the songs that are typically popularized contain lyrics and visual images that objectify and degrade women. Cat Got Your Tongue cautions and invites audiences to see the pictures that a violent vernacular paints. The production begins with a warning: The metaphor is literal.
Cast/Creative: TBD
3. Ashley Wren Collins
Personal Bio: is a New York City-based producer, director, choreographer, actor and writer. She received her BA in English and Theatre Arts from the University of Pennsylvania and her MFA from the American Repertory Theater/Moscow Art Theater School IATT at Harvard University. Collins produced and acted in the feature film, Chasing Taste, "Best Comedy" winner of the 2013 Burbank International Film Festival and the 2014 Manhattan Film Festival. Recent directing: The Bedbug and the world premieres of Gay Boy, I'm Mindful...of My Anxiety, Flak House: The Musical. She is the author of several books and short stories. Ashley is the recipient of a writing fellowship from the Edward F. Albee Foundation. The musical she co- created, Mother Eve's Secret Garden of Sensual Sisterhood, has been optioned for an off- Broadway production. Ashley was also a participant in the 2015 Directors Lab at Lincoln Center Theater.
Website: www.ashleywrencollins.com
Title of Piece: Land Grab
Description: Land Grab addresses the thought-provoking and timely themes of oil, multiculturalism and American imperialism and asks us to examine our motivation behind the morals and ethics of the choices we make in our families, at work, in our communities and the world. When should we be passive and step down? When should we be aggressive and fight? What is worth it and what is not? Are we too far gone? When do we say yes? And when do we say no? Land Grab questions the level of personal accountability we should have not only for our own actions, but also for the actions of our country.
Cast/Creative:
Actors: Dan Domingues, Tom Green, Hugh Sinclair, Natalia Cuevas
Playwright: Lori Fischer